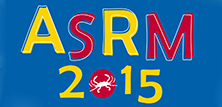 Attend the 2015 ASRM Annual Meeting to hear top experts in reproductive medicine discuss the latest in reproductive care. Find answers, learn and network all in one convenient location.
ASRM Conference: www.asrmannualmeeting.org 
The 2015 ASRM Annual Meeting will be held in Baltimore, Maryland, October 17 – 21st.
It's Time Surrogacy will be there talking surrogacy and can be found at the SEEDS booth on Monday, October 19th from 9-noon.